Roborock S7 review: Good vibrations
Roborock's latest flagship robot vacuum cleaner offers a premium clean at a premium price.
Last Updated: several months ago
The Roborock S7 offers all the smarts of the
S6 Pure
with more powerful suction, better mopping features and auto-empty dock compatibility. But for those extras, you'll pay a significant markup and forgo a bit of quiet. Roborock's
robot vacuums
are amongst the smartest we've tested but the fact you need to pay extra for the auto-empty dock makes it tough to recommend over the all-inclusive Ecovacs Deebot T9+.
Pros
Powerful suction (2,500 Pa)
Super smart mapping and navigation
Advanced mopping functions
Auto-empty dock coming soon
Cons
Auto-empty dock not included
Big price jump
A little louder than you'd like
Mopping can be inconsistent
Roborock S7 key specs and features
| | |
| --- | --- |
| Specs | Roborock S7 |
| Suction | 2,500 Pa |
| Dustbin capacity | 470ml |
| Cleaning area | 300m2 |
| Mapping | LDS (LiDAR) |
| Noise level | 67-68db |
| Mopping features | Vibrating mopping pad, auto mop lifting (5mm) and electric water flow |
| Water tank | 300ml |
| HEPA filter | Yes |
| Reusable filters and mop pads | Yes |
| Run time | 180 mins |
| Weight | 4kg |
| Sensors | Carpet sensor, drop sensor |
How much does the Roborock S7 cost in Australia?
Here in Australia, the Roborock S7 costs $999 from the official Roborock online store but it's currently out of stock due to unexpected high demand. The only retailers in Australia with stock at the time of writing are eBay and Mobileciti. Both sell it for roughly the same price give or take a dollar or two.
Harvey Norman/Domayne also have it listed on their sites for pre-order at $1,199 with units expected to arrive in late July.
The $1,000+ price tag is the elephant in the room here. For nearly half the price, you can get the perfectly capable Roborock S6 Pure and spending an extra $100 will get you the Ecovacs Deebot T9+, a mostly comparable product that comes with an auto-empty dock. The Roborock S7 Auto-Empty Dock hasn't been released in Australia yet but when it does, you'll need to pay extra for it.
That price puts the Roborock S7 in a tough position. Those dipping their toes in will want to spend a lot less and those who are interested in spending more for little luxuries like an auto-empty dock might be better served forking out for the Deebot T9+.
While not exclusive to its premium device, Roborock's most impressive feature is the LiDAR-powered navigation of its robot vacuums. It runs a gentle and thorough routine and only ever gets caught up on stray charging cables and socks.
This is all the more impressive thanks to the Roborock S7's carpet detection and mop-lift feature. With less advanced models, the onus is on you to mark areas for mopping and areas that shouldn't be mopped, like carpets and rugs. It's an extra step and often more trouble than it's worth but the Roborock S7 is clever enough to know when to use the mop and went to lift its moist undercarriage off the floor.
It also allows it to really work the edges of a rug where dust and debris are likely to gather.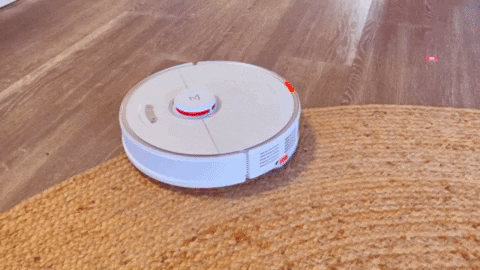 If I had to nitpick anything in the Roborock S7's regular regime, it would be its unpredictable cleaning sequence. In my house, it will often start in one spot (say, the kitchen) then bail on that to check out the bedroom. It eventually returns to finish the job but I'd prefer to know where it's going and when so I can make sure the floor is clear of obstructions in its path. Roborock obviously knows this is an issue and allows you to set precise, custom sequences in the app but that's not immediately obvious and sometimes I'd just prefer if it would stick to one room at a time by default.
As for docking, the Roborock S7 has never run afoul in my tests outside of getting caught up on some mess on its way home but once again, that's on me. Socks are a robovac's worst enemy. The least I can do is clear the way for the little workhorse.
Then there's the yet-to-be-released auto-empty dock. The highly sought-after feature adds a dustbin to the charging dock so the robot vacuum can empty its onboard tank when it returns home. In short, it means less work for you, the human, as you don't have to empty the dustbin as often. However, besides not being readily available at the time of writing, the auto-empty dock doesn't come included with the S7, it's an additional cost and we don't know exactly how much Roborock will sting you for it yet. That's only worth mentioning because Ecovacs' premium competitor, the Deebot T9+, comes with the auto-empty dock by default.
It's hard to fault the Roborock S7's cleaning performance. The Roborock S6 Pure was already a top-performer in this category and the Roborock S7's higher suction power just makes it even more adept and cleaning rugs and carpets. For general cleaning, I threw the same pantry-fodder at it as I do with every robot vacuum: flour, lentils and pasta shells. Just like the Roborock S6 Pure, the S7 handled everything I threw at it with ease. The only difference is the S7 took fewer passes to pick everything up.
Fine particles, like flour, in carpet can be a challenging job but most robot vacuum cleaners will get to it given enough time. In my review, the S6 Pure needed to take three to four passes to completely clean flour from carpet and wooden floors. The Roborock S7 did it in two. That's both a testament to its improved suction power and the rubber material used in Roborock's beater and side-brushes which does a much better job than the average vacuum brush.
Everyday debris and dust bunnies are no match for the Roborock S7 but I've been particularly impressed by the amount of cat hair it manages to pull from the carpets and rugs. The deep-seated fur from our feline friends is a tough opponent but the Roborock S7's full dust-tank shows it has got the chops to vacuum up pet hair I didn't even know was there.
While the Roborock S6 Pure's mopping features were just nice to have, the Roborock S7 makes a much stronger case for a robot vacuum-mopping hybrid. First up, mopping feels like less of an inconvenience. Rather than a shared dust bin and water tank compartment, the Roborock S7 has a dedicated water cartridge that slides out from the rear of the device. It also holds a lot more water with a 300ml container (compared to the S6 Pure's 180ml tank). Those are practical conveniences but the true upgrade to the S7's mopping can be found in its vibrating mop, electric water flow and auto-lift function.
The vibrating mop is pretty self-explanatory, rather than simply sliding over the muck, the vibrating mop scrubs the floor as it passes over. There are three settings: mild, moderate and intense. In my tests, spills that have dried (like baby food) require the full intensity of the vibrating mop and even then it's not always enough. Adding to that is the Roborock S7's electric water flow control, so it constantly feeds water into the mop pad, rather than relying on gravity to do its thing and slowly soak the pad over time. The mop pads are also washable and reusable, which is great for the environment and your wallet.
Lastly, there's the carpet detection and auto-lift feature. The Roborock S7 is capable of detecting carpets and rugs and will automatically lift its mop to clear any delicate floors that you don't want to get damp. I've never witnessed the Roborock S7 slip up when detecting carpet. Taking the responsibility off your hands makes it so much easier to include a mopping routine in your daily cleaning schedule.
Does it work? Sometimes. Don't throw the old mop and bucket out just yet as we've arrived at my biggest issue with the Roborock S7. For all its power, smarts and advanced features, its mopping performance isn't consistent enough to warrant such a steep price increase.
Don't get me wrong, it's always appreciated and better than nothing. Just like a robot vacuum won't completely replace the need for a traditional stick vac, it won't completely replace the need for a mop. But it's mostly these features that command the Roborock S7's much higher price tag. The jump from $699 to $1,199 is a huge ask and I don't think the mopping alone is worth the upgrade when you get such phenomenal cleaning performance from much cheaper devices.
Cold hard cash isn't the only thing you'll part with if you go premium with the Roborock S7 - you'll also say goodbye to a bit of peace and quiet. As you'd expect, the extra suction power adds a few extra decibels to everyday operation. Where the Roborock S6 Pure hummed along at around 60-61.5db, the Roborock S7 averaged around 67db for regular operation, spiking to around 68.5db on certain carpets and rugs. That might not seem like a huge difference but consider that 60db is closer to that of an air conditioner (or oven range hood) while 70db is roughly as loud as a washing machine and it becomes clear that a few decibels can make all the difference. It's still totally tolerable but its presence is felt a lot more than that of its predecessor.
Is the Roborock S7 worth it?
The S7's pricing puts it between a (robo)rock and a hard place. If you're looking to splash out on a robot vacuum, Roborock is one of the most reliable brands on the market and your money will be well spent. You'll also save money in the long run thanks to its washable and reusable mopping pads. But that doesn't change the fact that spending an extra $100 will get you the equally adept Ecovacs Deebot T9+ which is sold with an auto-empty dock.
Spending almost half the price will get you the trusty Roborock S6 Pure, a thorough robot vacuum cleaner that has all the smarts of the S7 just with fewer mopping features.