Google Pixel 4a review
How does the Pixel 4's cheaper sibling hold up against the real deal?
Last Updated: several months ago
Our verdict on the Google Pixel 4a
The Google Pixel 4a is a solid mid-range smartphone with a great display and some of our favourite features from its high-end sibling. While its battery life certainly isn't the best we've ever seen, the Pixel 4a is well worth the $599 price tag.
Pros
Great camera
3.5mm headphone jack
Cons
Mediocre battery life
No face unlock
When Google announced the launch of the Pixel 4's cheaper iteration, the Pixel 4a, we were excited to see how it compared to the main event. If last year's 3a was anything to go by, the 4a was going to bring us the best of Google's flagship, without the high-end price tag. Thankfully, that's almost exactly what we got.
How much does the Google Pixel 4a cost?
All the fun of the Pixel 4 for less.
The smartphone market is cluttered with mid-range devices that get the job done but aren't exactly a joy to use. The Pixel 4a is not one of them.
At an RRP of $599, it packs a whole lot of phone into a neat little package for a staggering $400 less than its exxy sibling. It's a huge saving if you're willing to sacrifice Face Unlock for a rear fingerprint scanner, a speedy Snapdragon 855 processor for a budget 730G, and a dual-lens camera for the 4a's still-great single-lens snapper.
In fact, a couple of things the 4a has over the 4 is the inclusion of a 3.5mm headphone jack (for those who aren't ready to commit to wireless headphones) and an extra 50 minutes of battery life.
Note: Since we first published this article, Telstra is now the only mobile provider still offering Pixel 4a plans. 
When we first learnt that the Pixel 4a would have just one camera, we were a little sceptical. Sure, previous Pixels had managed fine with just one, but in a market flooded with multiple lenses, how well would a single shooter hold up? Pretty damn well, as it turns out. Single-lens or not, Google's intelligent photography software still puts the Pixel 4a's snapper high up on our smartphone camera rankings.
Do you know how hard it is to find a smartphone that still has a headphone jack in 2020? For those of us who haven't completely converted to wireless headphones, the Pixel 4a's inclusion of the humble 3.5mm jack is a massive selling point.
If you're anything like me, you're probably always forgetting to charge your phone until 15 minutes before you leave the house. Lucky for people like us, the Pixel 4a can fetch you an extra 20 to 25 per cent of juice in that quarter of an hour, which can be just what we need in a pinch.
It's a good thing the 4a supports fast charging, because trust me, you're going to need it. The Pixel 4a beats out its predecessors when it comes to battery life, but it's below par compared to other smartphones in its price range.
The Pixel 4a's rear fingerprint sensor works well and works quickly, but it doesn't quite match the convenience of the facial recognition tech found in other mid-range devices.
While not a deal-breaker for most, the lack of wireless charging capability is a downside for those used to the convenience.
Now that we've covered the basics, let's get into the nitty-gritty.
Google Pixel 4a design and display
Small but mighty
Google has opted for minimalism with the Pixel 4a, which is available only in a sleek, simple black colour. In a clever move, the tech giant has done away with the Pixel 4's contentious thick top bezel to show off the stunning 5.81-inch, Full HD OLED display, disrupted only by a hole-punch selfie camera in the screen's top-left corner. Sure, the screen is a little on the small side, but at a mere 143g, the Pixel 4a is made to be compact. And, speaking as someone with small hands and even smaller pockets (thanks, women's clothing manufacturers), the Pixel 4a is a real treat in a market saturated with oversized smartphones.
As for the back of the phone, the 4's matte metal casing has been replaced with a more budget-friendly plastic backing, however, it by no means feels cheap. Aesthetically, Google has taken the idiom 'less is more' and run with it, with an understated rear camera bump boasting one (yes, just one) lens and a flash, plus the subtle fingerprint scanner. The only real surprise (if you can call it that, given Google's love of the odd colour pop) is the quirky mint-coloured power button.
Oh, and if you're the outdoorsy type (or just plain clumsy), a word of warning: Unlike the Pixel 4, the 4a is not waterproof. Proceed at your own risk.
How good is the Google Pixel 4a camera?
Less is more.
Camera quality is one of the biggest things we look for when reviewing a smartphone, and the Pixel 4a certainly delivers. Pixels have always rocked some of the best smartphone cameras we've seen, proving that multiple cameras don't always equate to better quality images, and the Pixel 4a is no different.
While most devices in this price range are rocking three and even four rear cameras, the Pixel 4a has just one. That said, it can do more with one camera than most can do with four. It rocks the same 12.2MP main camera as the Pixel 4, along with the same intelligent software, plus killer features like Night Sight and Portrait Mode, all of which combine to create some amazing shots - well, to my amateur photographer eyes, at least.
The Pixel 4a captures stunning images with true-to-life colours
The Pixel 4a really nails colour, depth and contrast
Portrait mode makes for some truly stunning images
This photo, taken in Night Sight mode, adds greater dimension to the clouds and trees.
...and the original, non-Night Sight-ified photo, which is a bit underexposed.
No one's buying the Pixel 4a for its zoom, but it isn't the worst we've ever seen.
If you're big on zoom, however, the Pixel 4a is not for you. Unlike its big bro, the 4a lacks a telephoto lens to give those super-zoomed images the clarity you'd expect from a dual, tri or quad-cam smartphone. That said, given it has just the one lens, the 4a still holds its own with shorter-range zoomed photos.
What are the Google Pixel 4a's features and performance like?
It's smart and snappy, but we miss face unlock.
The second I got my hands on the Pixel 4a, I immediately downloaded the Android 11 update. While it's pretty much business as usual, there are a handful of new features that I love and which make the Pixel 4a only more enjoyable to use. Categorising notifications by type has made life so much easier and the drawer a whole lot neater, and the ability to see notification history is a game-changer. Screen recording is another good addition, albeit a pretty late one.
As you can probably expect from a Google-made phone, Google Assistant is seamlessly integrated. It can open and send messages, make calls, set alarms, control your music (including Spotify) and answer most of your burning questions. You can even get it to transcribe your speech with uncanny accuracy. It's basically a uni student's dream - drop your Pixel 4a at the lecture then head to the uni bar while your phone does all the note-taking work for you. The best part? It doesn't even require an internet connection.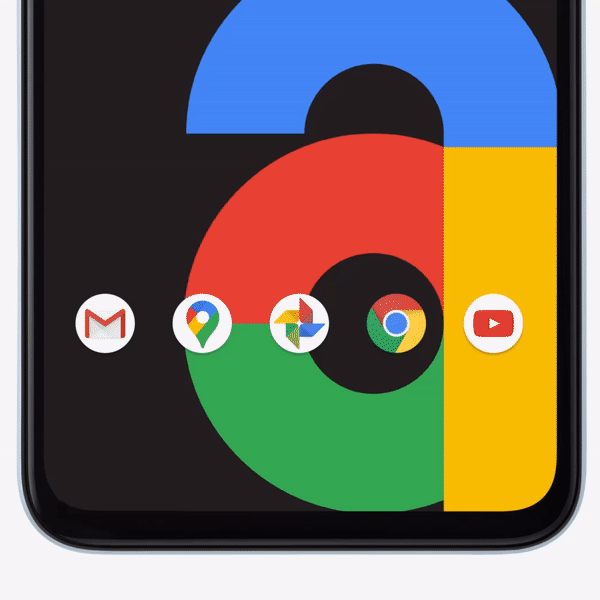 The last few devices I've used have included some sort of face-unlocking biometric security, so going back to a fingerprint scanner feels like a bit of a step backwards at first. That said, it's quick, responsive, and as I've been testing the 4a during 'rona, not having to take my mask off to unlock my phone has been pretty convenient.
As for performance, the Pixel 4a's 6GB RAM and Snapdragon 730G processor, although not top-of-the-line, make for a zippy and responsive smartphone. I put it through its paces running resource-heavy games like Asphalt 9 and PUBG Mobile, and this small but mighty device had no issues at all.
How is the Google Pixel 4a battery life?
Mediocre battery life but super-fast charging.
There are certain things, like the camera, that Google gets right with its Pixels every time. However, there's one thing the tech giant simply can't seem to nail - battery life. While it's not the worst we've ever seen, it definitely falls below the standard of other devices in its price range. The average user will get a full day's worth of use, but power users will struggle to make it from breakfast to bedtime without a top-up.
Those used to wireless charging will also be disappointed to note that the Pixel 4a, like many phones in its price range, does not support wireless charging. That said, it does come with an 18W power adapter, allowing a full charge in just an hour and a half. It's so quick that it just about makes up for the less-than-incredible battery life.
One nice feature is that you can see roughly what time your battery will last till, however, in my experience, it was a little optimistically estimated. Battery saver mode does help a little, but it does come at the cost of features like location services and Google Assistant's voice activation.
If you're willing to overlook the average battery life and are happy with a smaller screen, it's hard to beat the 4a in this price range. It's taken most of our favourite features from the 4, crammed them into a neat, pocket-friendly little package, and shaved $400 off the price tag. What's not to like?